24 NOV 2000

BENTLEY!! THE RETURN!!

It's official. Bentley will return to Le Mans for the first time in recent memory.

ROLLS ROYCE & BENTLEY OFFICIAL PRESS RELEASE:

"As the company confirmed last week, Bentley Motors will be back at Le Mans in 2001 for the first time in over 70 years. EXP Speed 8 has been quietly under development in the UK for more than a year and has recently started an extensive testing schedule under programme manager Richard Lloyd of Apex Motorsport. British driver James Weaver, who has contested Le Mans 12 times, has been signed up to test EXP Speed 8 for the Bentley racing team which is being managed from Crewe by a small group of Bentley Motors directors. The driver line-up is yet to be confirmed."

"The 3 Litre Bentley of John Duff was the sole British entry at the first ever Le Mans in 1923 and came in fourth despite the absence of front wheel brakes. Bentley Motors went on to win Le Mans five times out of eight starts in 1924, 1927, 1928, 1929 (finishing first, second, third and fourth) and 1930."

WE SURE HOPE THEY COME TO SEBRING!!!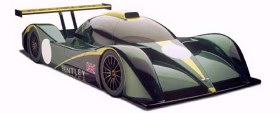 Wind Tunnel Model Photos Courtesy of: Bentley



Toyota's NOSE & Audi's RUMP?

Andre de Cortanze & Tony Southgate must be flattered. Just how much, if at all, does the new Bentley borrow from the Toyota GT1 and Audi R8C? We'd better leave this one to the GURU...