12 DEC 00

NEW Chrysler Dallara LM/P!!!

CHRYSLER OFFICIAL PRESS RELEASE:

"Brussels, December 8, 2000 ­ Chrysler Motorsport's 2001 Le Mans Prototype challenger, the Chrysler LMP, is scheduled to have its first track test next month and will take part in the Le Mans 24-hour race on June 16/17.

"The Chrysler LMP will, it is hoped, continue the winning tradition started by Chrysler's Viper that has already won its class at Le Mans over the past three years.

"DaimlerChrysler's performance parts division, Mopar, created the 6.0-litre V8 engine which debuted at Le Mans this year fitted in a customer Reynard chassis. The car was entered by the French team ORECA, run by Hugues de Chaunac who prepared the Chrysler Vipers for their triple Le Mans successes. De Chaunac and his ORECA team won Le Mans outright in 1991, for the Mazda factory team¹s first ever victory there.

"For 2001, engineers from the Chrysler Group in Auburn Hills, together with ORECA and chassis specialists Dallara, have built a completely new car, which is to be unveiled in Paris in January before testing begins in Spain later that month. ORECA will again benefit from its three-year deal with Play-station and has received the support of Dassault Systemes for the design of the car that will run on Michelin tyres.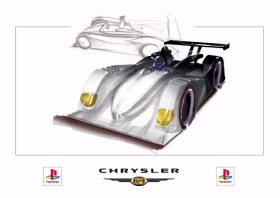 Image Provided Courtesy of: Viper Motorsport

"The engine has undergone performance development under the watchful eye of John Caldwell, the man responsible for tuning the successful Chrysler Viper GTS R/T racing engine.

"Yannick Dalmas, who has won four Le Mans 24-hour races in the last decade, this year signed a two-year deal to drive the Chrysler LMP. Further driver announcements will be made in the new year. "