Headline Archive

No BMW V12 LMRs in Adelaide!

Favorites

Check Out Our Favorite Websites
23 NOV 2000

Missing from the entry list of this year's final ALMS event are the famous V12 powered BMWs. BMW has confirmed that they will withdraw from Le Mans prototype racing at the end of the year. BMW joins Porsche, Mercedes, Toyota and Nissan in the recent list of dropout constructors. BMW will instead focus on their blossoming Formula 1 endeavor. With Formula 1 team budgets upwards of $200 MILLION per year, it's no wonder BMW is pulling the plug.

Did BMW even try for 2000? Throughout the 2000 season it was painfully apparent that BMW wasn't planning on a 2001 return. The BMW V12 LMR carried over from its winning 1999 season with few revisions. On many circuits the BMW Schnitzer team struggled to match last year's performance.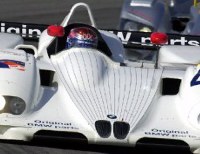 Photo courtesy of: Team Unicorn

Now, like Porsche, BMW will step up its factory support in the GT class. However, news of Schnitzer's move down to the slower GT class BMW M3s is of little consolation to sportscar fans.