05 DEC 2000

We would probably be deceiving ourselves hoping for a fourth year, but it's nice to know that some car companies know what to do with their money...

AUDISPORT OFFICIAL PRESS RELEASE:

"AUDI AG will continue its successful motorsport involvement in the 2001 season, competing at theLe Mans 24 Hour race and in the American Le Mans Series (ALMS) with two modified Audi R8 racing sportscars. With Laurent Aiello, Michele Alboreto, Frank Biela, Rinaldo Capello, Tom Kristensen, and Emanuelle Pirro, a line-up of experienced sportscar drivers, who belonged to the victorious Audi Le Mans squad this year, will again drive for Audi."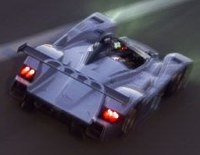 Photo courtesy of: Audi Sportpresse

This news is certainly encouraging for Sportscar fans. Three years straight is a nice commitment from a major manufacturer. Quite a few revisions are expected for the 2001 Audi racer.