02 JAN 2001

The GT class King returns this year with some new tricks. Direct from Porsche:

"The Porsche 911 GT3 RS is the successor to Porsche's dominating 911 GT3 R. This water-cooled 996 based racer has proven to be a formidable challenger in the GT category during the 2000 season. The modified 3.6 liter six cylinder engine develops in excess of 420 horsepower and drives through a six-speed gearbox equipped with oil heat exchanger, pressurized lubrication, and a limited slip differential.

The revised bodywork, combining light weight and strength, makes maximum use of current aerodynamic principles to provide excellent grip with minimum drag. The chassis of the 911 GT3 RS comes completely equipped with the necessary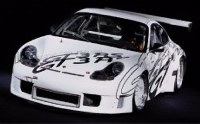 Photo courtesy of: Porsche North America

components to comply with current sanctioning body regulations. Fitted, from the factory, with a fuel cell, externally adjustable shock absorbers, spherical bearings at suspension mounting points, electric power steering, and 380 mm, four pistons/caliper brakes, Porsche's newest offering will be THE "turn key" race car."