Headline Archive

ELMS News: DAMS Corvettes?

Favorites

Check Out Our Favorite Websites
The French based DAMS team may run a pair of GTS Corvettes in the post Le Mans 2001 ELMS season. After running the Caddies at Le Mans, team boss Jean Paul Driot will focus his attention on the Vettes, leaving the LMPs to Britain's Geoff Hazell.

The Vettes may race at Estoril, Salzburgring and Vallelunga. Needless to say, this is good news for the ELMS.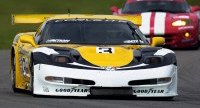 Photo courtesy of: Team Unicorn