24 FEB 2001

At Le Mans, Pescarolo Sport plans on running two Peugeot twin-turbo V6 powered C60s, piloted by: Boudais, Boullion, Clerico, Grouillard, and a yet to be named sixth driver.

Yves Courage will enter his own Judd V10 powered C60 (Bye Bye, Nissan!)

SMG (pictured at right) will return with a lone Judd V10 powered C60, piloted by: P. Gache, J. Policand & A. Beltoise.

SMG has scheduled a 24 hour test session at Jerez, beginning March 19.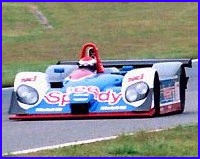 Photo courtesy of: Maison Blanche